MAGNET Beyond is a worldwide R&D project within 
        Mobile and Wireless Systems and Platforms Beyond 3G.
          MAGNET Beyond will introduce new technologies, systems,
           and applications that are at the same time user-centric
           and secure. MAGNET Beyond will develop user-centric 
          business model concepts for secure Personal Networks 
        in multi-network, multi-device, and multi-user environments.
      MAGNET Beyond has 30 partners from 15 countries, among
   these Industrial Partners, Universities, and Research Centres.
MAGNET Beyond is a continuation of the MAGNET project.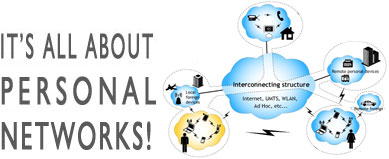 ---
Contact: Aalborg University · Niels Jernes Vej 10 · 9220 Aalborg East, Denmark · Phone: +45 96358080 · E-mail: [email protected]
IST-FP6-IP-027396 © MAGNET Beyond 2006-2008. All rights reserved.